---
---
---
---
PC-550W
1080p Drinking Lid DVR with Wi-Fi function
---
Over View
PC-550W is digital video camera camouflaged as a drinking lid of coffee cup. Sophiscated design has very high secrecy and melt into various situation. Comparing to previous model, total quality and performance are widely upgraded. Resolution is upgraded to FullHD, battey life is prolonged to 3hrs (50% longer than previous model) and so on. PC-550W also has Wi-Fi module now. You can connect to PC-550W by your smartphone and monitor the view angle at real time.
※Do not pore any liquid in the cup. When the device damaged due to liquid in a cup, we cannot repair in the worst case.
Function & Characteristics
Wi-Fi Communication

You can communicate with PC-550W by your smartphone. Once your phone is connected, you can do various setting (Resolution, fps, time- setting, etc). You can also check view angle and give a command the device to start recording.

| | | |
| --- | --- | --- |
| | | |
| Preview screen | List of video data | Setting menu |

Long Battery Life

PC-550W carrys 1400mA polymer battery which support continuous 3hrs recording time.
※Battery life changes due to the environment PC-550W operated.

Picture Quality

Equipped with 5MP CMOS image sensor, PC-550W records crime scene with high definition picture quality.

Operation

Process to start recording is very simple. Press Power on button and PC-550W starts recording. Only one step. Easy operation and quick response support you in the investigation field.

Design

Its perfectly camouflaged design melts into various situation. You can leave it on a table, carry it on your hands, you name it.

Audio

PC-550W also records audio in PCM format.

Vibration

Vibration tells you about the status or your PC-550W. When camouflage cap is on, you cannot see status idicator LED but vibration helps you to understand in which status the PC-550W is in without checking the LED.

| Power button | Response of vib and LED | Status of PC-550W |
| --- | --- | --- |
| Press power on button long when PC-550W is off | Vibration works one time. Blue and red LED turn on | Power is on and start recording |
| Press power button short during recording | Vibration works two times. Orange LED turns on | Recording & Wi-Fi is on |
| Press power long when PC-550W is on | Vibration works two times. Blue LED and red LED turn off | Power is off. |

※You can also turn off the vibration.

Timestamp

Times stamp: Timestamp insert time information to the video.
Sample Movie
Setting
| | |
| --- | --- |
| Resolution | 1080p |
| FPS | 30fps |
---
Under the fluorescent light, picture might have flicker but this is normal.
This sample movie was convered for website. So picture quality is slightly different from original one. Original data is availabe in here >>donwload
Diagram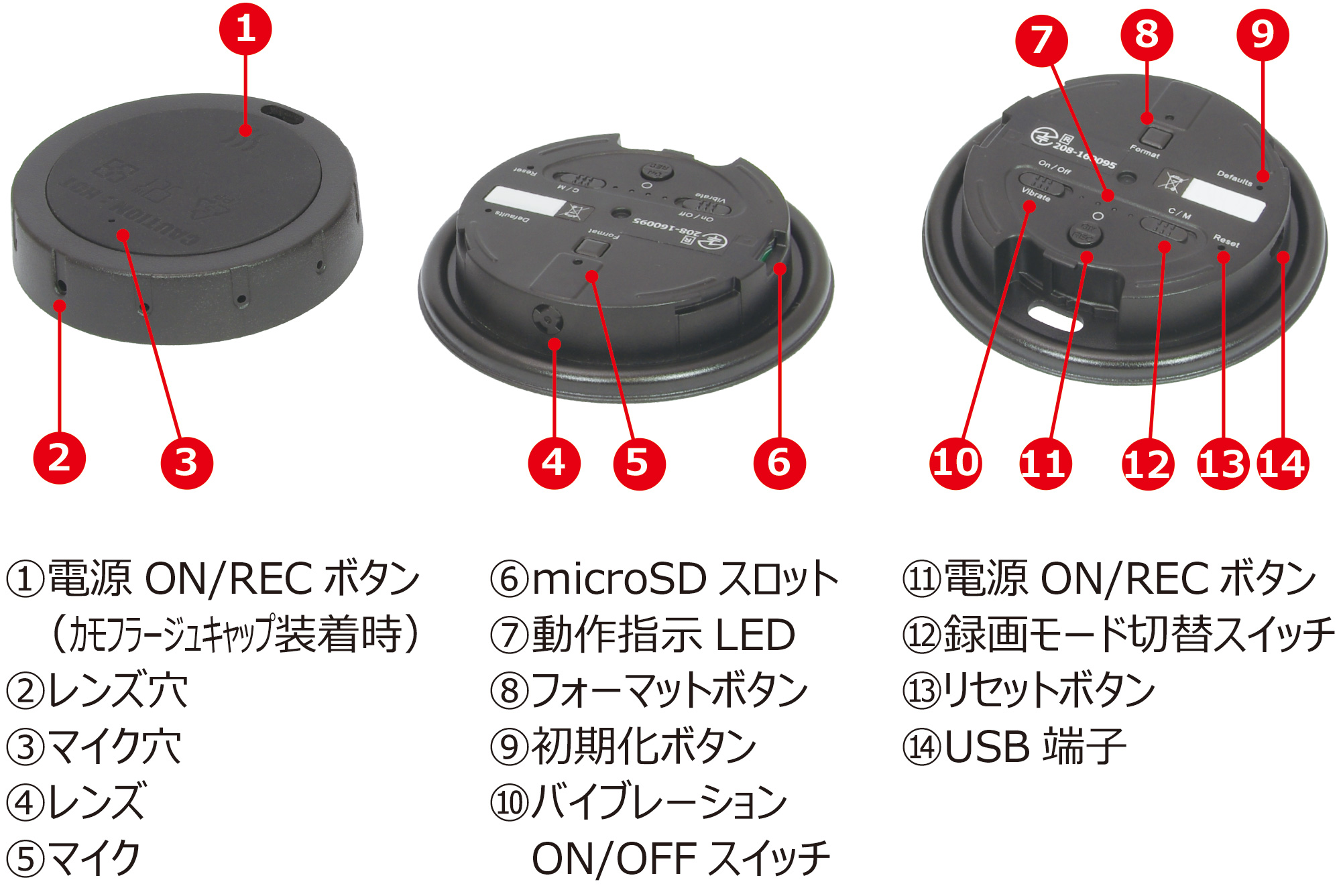 Specification
| | |
| --- | --- |
| Product name | PC-550W |
| OS | Windows 7/8/10 |
| Video Codec | H.264 / MOV |
| Sensor | 5MP 1/3 Digital CMOS sensor |
| Resolution / FPS | 1080p(30fps) / 720p(30fps/60fps) / WVGA(30fps/60fps) |
| Photo resolution | 2592×1944 |
| Lens | f4mm / F3.2 |
| View Angle | 60 degree |
| Minimum Lux | 3.3Lux (F2.0) |
| Recording time (Battery life) | 1080p Wi-Fi On : Approx. 3hrs / Wi-Fi Off : 3.5hrs |
| MIC | Yes |
| Memory | microSDHC card (Max 32GB) |
| Power source / Charging Time | Rechargable battery 3.7V/1400mA / Approx.3hrs |
| Input & Output | microUSB x 1 |
| Demension & Weight | 19(H)×93(W)×93(D)mm/101g |
PC-550W cannot take photo by pressing button. You may need take photo by using APP.
Battery life changes under the various condition.
microUSB is for charging and moving data to PC. Do not use it as removable disk.
Use regular player soft for playing video data. When you see video is not played smoothly update the player soft or use another player soft.
Do not pore any liquid to the cup. Once PC-550W damaged by liquid it might be difficult to repair.
Recording device has heat when it is running. Do not press the device to your bare skin.
Do not wrap up the device. When you put the device in something be sure the device can release the heat enough.
Package
PC-550W, microSDHC card 16GB, USB cable, cup x 2pcs, manual x 2
Precautions
Please read manual before you use the device.
Design will be subject to change without notice.
Reproduction or appropriation of all images and photographs from this site is prohibited.